My old 1968 Jeep CJ-5 Universal
---
Sold July 2000
---
---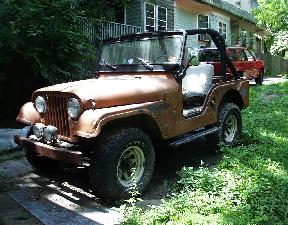 H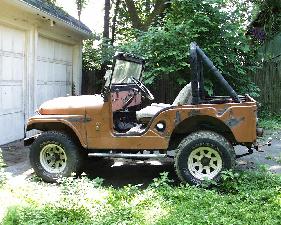 H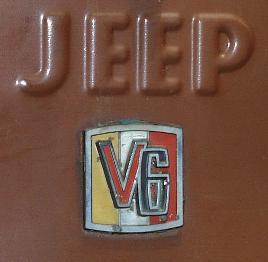 ---
Videos of engine running: (please note this is an Odd-Fire V6)

Video of Jeep driving on street:

---


If you want to tow the the CJ-5 back to your place I would recommend that you
rent an 'auto transport' from U-Haul or one of the other companies. These
things are a flatbed tow platform that works well for 4wd Jeeps. You should
have a good sized car to use for towing. U-Haul rents these things for about
$50 local (meaning returned at the place you rented it). You can rent one
for a one-way trip for about $75 and up (there are two U-Hauls near by)

You can get a tow dolly cheaper by they leave the two rear wheels on the ground.
It's not as good for long trips, but it would work ok. I would not recommend 
trying to flat-tow the Jeep home.

You should check width and other measurements before renting any special
equipment.

Note because of the age of this jeep there is no title, just a bill of sale.
I will not send you the paper work before payment.


7/23/00 Jeep update

I took a close look at the frame, here is what I see:
        On the whole the frame is good. It has some original paint left on it
        and has some surface rust in several spots. There are no rust holes or
        rot on the main frame.

        There is rust rot on the rear cross member that holds the hitch
        on to the Jeep. I think there is enough strength in the rest of
        the hitch to not be a problem. I have moved the jeep around by
        towing from the hitch and everything remains strong.

        There are two small cracks in the bumper mounts that I had welded.
        One is fine the other did not hold well. The cracks (one on
        each side of the frame) are in FRONT of the front spring mounts
        where the bumper attaches. They are on the bottom of the frame
        and about 2" wide (crack is side to side). I do not think this
        is a big deal at all. They can be quickly repaired by a good
        welder. These cracks are NOT caused by rust or a weak frame.
        They were caused by impact to the front bumper (which is still bent)

        I have added closeup photos of the rear cross member and the two
        small cracks at the front. I also added a photo of the left side
        frame at the rear of the front sprint mount so you can see the
        general condition of the frame.

About the top:
        It has the frame rails and the doors. I had the clear plastic replaced
        a few years ago and it is cloudy now but not brown. The bottom of the
        doors are brown.
        I have added a photo of the top, doors and parts.


To all bidders on my CJ-5: (7/17/00)

Here is updated answers to questions on E-Bay #384737949 

1. The floors are a bit rustier than I thought, there are some holes.

2. The photos were taken This Sunday July 16th, 2000

3. I last started it tonight. It's idling now. It will need a new battery
but it starts quickly without any problem. It revs nicely and sounds
like the beast that it is. (My neighbors were not very happy)

4. The clutch now works

5. The engine does not leak oil or antifreeze.

6. The other oil leaks are standard for this year jeep (nothing big)

7. This is NOT an AMC Jeep. This is a real Jeep. It's shorter than
the post '71 AMC years.

8. Quadratec (800-745-5337) lists a Fiberglass and Steel body for
the CJ-5 '55-'75. The tub should be the same as a later CJ-5. The fenders
and hood are a bit shorter, they are listed as 55-71 CJ-5.

9. The overdrive operates in ALL gears, forward and reverse. In two and
four wheel drive, high and low range. A total of 16 choices.

10. The reserve is $500


---

1968 Jeep CJ-5 Universal
Brown (NOT from a spray can! Painted over factory Green)
Rear mounted spare (but no spare)
Rusty tub (but floors are ok)
Frame OK
Rear draw bar
Front lockout hubs (selectro)
Factory 225ci V6
	Heads were redone for unleaded
	Pistons/rings/cam/lifters/chain/etc were replaced
Engine was running fine (needs tune up)
Newer springs/shocks (rancho)
Standard 3 speed
standard dual range 4wd transfer case
>*** Warn All-Range Overdrive installed (was NOS when I put it in) ***<
No gear problems (top speed with OD 90+)
What's left of the top is included (it's covered now)
4.88 R&P
open diff's
31x10.50R15 AT tires

Bad news:
	It has been sitting for a while
	Might need a new timing chain (the 225 eats them)
	Body has some very bad spots/holes on the side
	Needs some exhaust work (no tail pipe)

You MUST pick it up in Hartford, CT or have it towed away.
I will not deliver it or move the jeep beyond my driveway.
Inspection before purchase only. Ask all questions now!
Payment is expected as within 7 days:
	PayPal
	Cash on pickup
	Bank Check
	No personal checks
Pickup must be done within 2 weeks.


---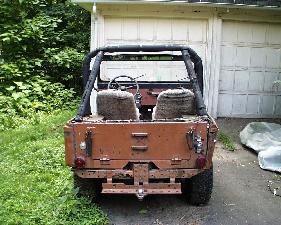 H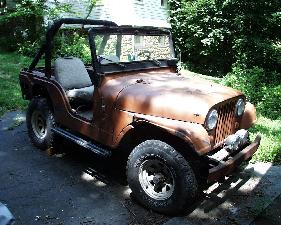 H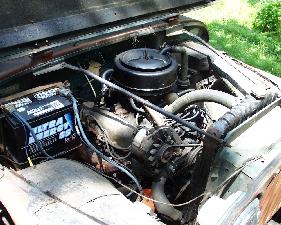 H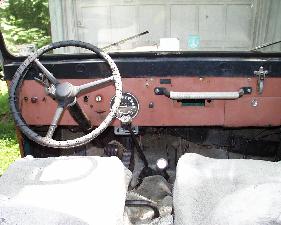 H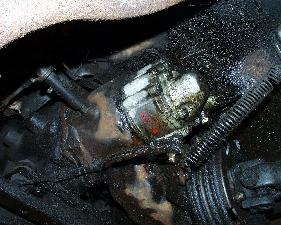 H
---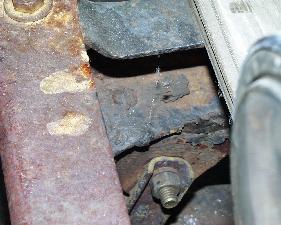 H
H
H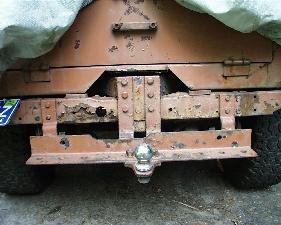 H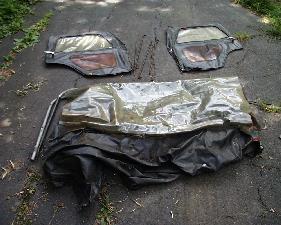 H
---
The count so far